Offer Hybrid Course of DANH Diploma in Ayurveda & Natural Healing
Part Time Course 1000 Hours For Healthcare Professionals and Science Graduates
Enrolling now for the fall 2022 academic year
contact us at info@ccaycollege.com For More info!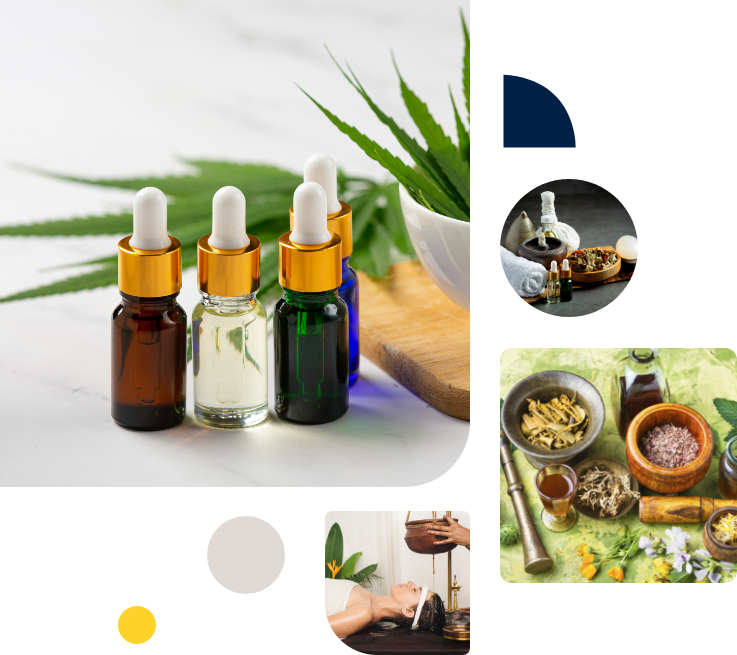 About the Program
Our Diploma in Ayurveda & Natural Healing (DANH) trains students in the use of Ayurveda as a health care modality. As part of this diploma students will learn Ayurvedic therapies, be able to provide Ayurvedic lifestyle and dietary advice, dispense a range of Ayurvedic herbs and formulations and be qualified to treat clients using Ayurvedic protocol. As part of this course participants will also implement Ayurvedic self care regimens, learn some meditation and Yoga techniques, study anatomy & physiology from an Ayurvedic perspective, learn about professional conduct and business awareness and complete 500 hours of supervised clinical training. On completion of this course, participants will be fully equipped to practice as an Ayurvedic Practitioner in west. This diploma course is a part time course conducted over 24 months.
This Diploma offers course that broadly covers topics on:
Ayurvedic Dietary & Lifestyle Guidelines (Food & Nutrition Concept)
Ayurvedic Method of Diagnosis (Traditional Tongue & Pulse Reading)
Ayurvedic Head & Body Massage (Shirodhara & Abhyanga)
Ayurvedic Detox & Rejuvenation (Panchakarma & Rasayana Karma)
Herbal Medicines & Food Supplements (Canadian Natural Health Products)
Learning Outcomes
Upon completion of the prescribed training and subsequent qualification in Ayurveda & Herbal Medicine, a practitioner shall:
be able to obtain and record patient information by performing a complete rago-rogi pariksha (history and physical assessment) in an empathetic fashion, including :
Prashna and Panchendriya Pariksha (History taking, Inspection, Palpation, Percussion and Auscultation)
Astavidha Pariksha (Eight-Point Disease Assessment)
Dashavidha Pariksha (Ten-Point Patient Assessment)
Sadanga Pariksha (General Physical Examination)
Sroto Pariksha (Complete Systemic Examination)
exhibit proficiency in modifying patient interview and examination based on the circumstances, including the ability to review patient history and physical examination.
Apply knowledge in clinical settings to assess acuity of illness by recognizing patients with life-threatening conditions
Demonstrate skill in preventive health and health promotion:
demonstrate disease risk assessment in the areas of :
nutrition, dietary and life-style management
tri-doshic imbalance reduction
promote healthy lifestyle through health behavior assessment and counseling
demonstrate awareness of implications of patient's prakruti alterations in disease processes
appreciate the Ayurvedic Practitioner's role in the care of a community health
Pre-Requisite for the Course:
The eligible candidates Include but is not limited to Certified Naturopaths, Medical Doctors (MBBS), Dentists (BDS), Chiropractors, Occupational Therapist, Physiotherapist, Homeopath, Osteopaths, Orthomolecular Practitioners, Pharmacists, Nurse Practitioners, Yoga Teachers, Science Graduates trained in North America or International Graduates who have completed their medical education from accredited recognized universities overseas.
Requirements:
Written and verbal fluency in English is a requirement for this course.
Participants must be 18 or over.
Duration of Course
The part time course of Diploma of Ayurveda and Herbal Medicine is covered extensively within 1000 hours in a span of 2 Years and the students are trained and taught various aspects of Ayurveda and herbal medicine within this period by our highly learned faculty. After the period of 2 years, it is mandatory to complete a 500 hour of clinical internship under registered Ayurveda practitioner or Naturopath within Canada or abroad.
Registration Fee/Deposit
A registration fee/deposit is required to hold a place on the course. Once the course has commenced registration fees are non refundable. In the exception of a course not commencing all registration fees will be refunded.
• Total Cost of Program: CAD $ 14,000 (+HST)
• DEPOSIT: CAD $ 500 + HST (Refundable)